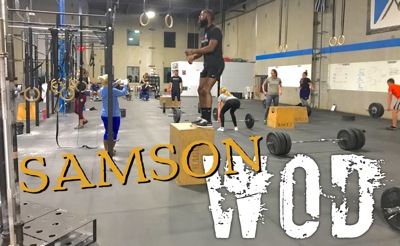 We heard you. How can a Christian fitness magazine not have a Samson workout? Now we do!
The Pureflix movie Samson recounts the inspiring story of how God gives Samson supernatural strength and faith to deliver Israel.  Faith & Fitness Magazine is your tool for powerful, healthy and passionate living to help you build physical and spiritual strength.
Our training department and other magazine sections are already filled with original exclusively crafted contributions from some of the best like Lee Haney, Laura Monica, Dr. Mike T. Nelson, Dr. Kenneth Cooper, Mark Dugdale, Gunner Peterson, Peter Putnam, Tanji Johnson, Leks Stanic, Troy M. Anderson, Diana Chaloux – LaCerte, Laurie Graves, Ramon Torres, Alisa Keaton, Tim McComsey, David Redding, Eric Rodgers, Antoniette Pacheco, James Woodall, Kirsten Quick, Eric Wrona, Dave Prowitz, Ally Davidson, Erik Akutagawa, Anthony Dispensa Jr., Marrin Ellis, Jonathan Evans, Alex Lopiccolo, Matthew Diener, Derek Beech, Dino Nowak, Jason Rhymer and … you get the idea AND there are many more we could list.
BUT – We've never offered you a workout inspired by history's strongest, Samson, until now.
Greg Kino, of Faith Rx'd WPB (West Palm Beach, Florida) did the research and found this Samson WOD, one of several benchmark workouts created by the franchise Hard Exercise Works or HEW. According to Greg, all of the HEW benchmark workouts are named after Biblical people or themes.
This WOD consists of six rounds of the following four movements:
6 ring dips
9 deadlifts (275 lbs prescribed weight but can be modified)
12 box jumps (30 inch box)
24 double unders with jump rope
This is truly a workout of Biblical proportions. So, to show it off right we asked Becky Conzelman, Executive Director of Faith Rx'd and her husband Jim, Co-founder to enlist one of their local Denver, Colorado chapters to demo this really easy workout (NOT!). The pictures that follow illustrate the four different exercises of the Samson WOD. (Read the Faith & Fitness Magazine article about Faith Rx'd.) Consult with your doctor before doing any exercise program.  Exercises should be modified as needed to meet your physical ability.
---
6 RING DIPS
1. Adjust the height of the rings so that your feet will not touch the ground between repetitions.  
2. Mount the rings and assume the support position. You should be above the rings, arms straight, supporting your body weight.
3. Lower your body down by bending at the elbows and keeping shoulders close to your sides. Keep the movement steady and controlled. If possible, continue down until your shoulders almost touch your hands for a full range of motion.
4. Press your body back to the original starting position.
---
9 DEADLIFTS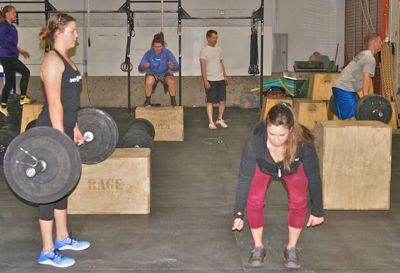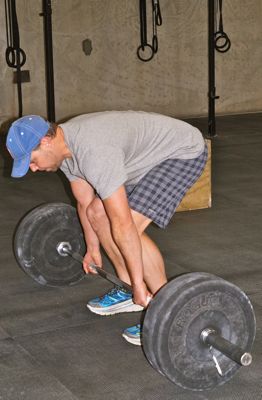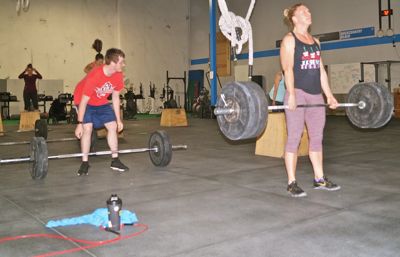 The deadlift requires nothing other than weights, a barbell and some determination to lift it from the floor. 
1. Stand in front of loaded barbell, feet flat beneath the bar. 
2. Squat down (keep back straight) and grab the bar shoulder width or slightly wider (over hand or mixed grip). 
3. Lift the bar from the floor by extending the hips and knees fully, powering up using the legs and moving the torso to an upright position. 
4. Return the barbell to the floor in a controlled manner to complete the repetition. Pause. Repeat.
---
12 BOX JUMPS
1. Stand in front of the box with feet directly under the hips and hands by your side. 
2. Lower yourself into the jumping position by bending at the knees and hips. Keep your head up and back straight. 
3. Explosively jump from the crouched position while swinging the arms. 
4. Land softly on the center of the platform absorbing the impact with your legs. 
5. Stand tall.
6. Return to starting position by either jumping backwards off the box, or by stepping down and repeat the movement.
---
24 DOUBLE UNDERS WITH JUMP ROPE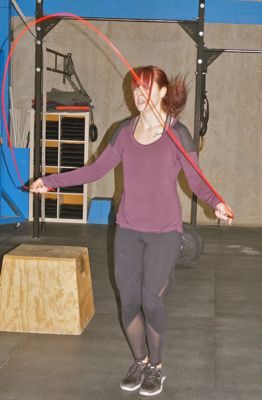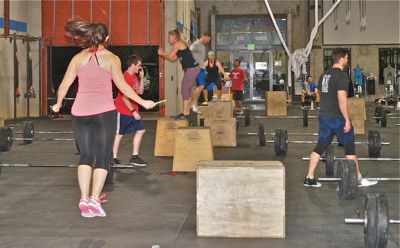 How to do double unders with jump rope:
1. Hold the rope with your hands out to the side of the body and elbows tucked in. 
2. Using a circular wrist motion, swing the rope continulously over your head and under your feet, pushing off with the balls of your feet as the rope approaches the ground. What makes it a "double under" is that the rope goes under your feet two times for every single jump.
Get your friends together and do the Samson WOD at your box or wherever you workout. Be sure to post your Facebook comments at the bottom of this article and share your Samson experience here with others.
Enjoy our other Intense, Intents articles that help you define and celebrate how to do truly vigorous exercise paired with
intentional living for Christ.
---
QUESTIONS FOR GROUP DISCUSSION AND PERSONAL REFLECTION
1. Consider Samson's heritage
How has your family history and your early upbringing influenced who you are today? What influence do you want to have in the lives of your children, grandchildren, other young children and those close to you? We know that both our good and bad behaviors influence others. In what ways can God move in your life to redeem the bad for His good purpose?
2. Consider Samson's character
Here's a guy who really had everything AND was blessed by God, yet he wanted more. How does your lust for life impact you? Define temptation and describe what you've learned about it? Perhaps beyond understanding the self-will God gives each of us, He also calculates into our bigger picture. Reflect upon and discuss what you know (and don't know) about God's will and purpose then think about the role Bible reading and prayer play in your life. Finally, describe both your God-influenced and self-created character.
3. Consider Samson's strength
How do you think his obvious physical superiority influenced his perception and attitude of himself? How does your physical body define you? The Bible offers only a brief description of life for Samson once he had lost his strength AND God's spirit had left him. How would you feel? What would you do? How was strength ultimately redefined in Samson's life and what does "getting stronger" personally mean to you?