Publisher's Note: The February/March 2017 issue of Faith & Fitness Magazine will include our own feature story interview with Samson Movie Producer Brittany Yost and Actor Taylor James along with our exclusive podcast interview. The PureFlix movie is in theaters on February 16, 2018. Samson is perhaps history's best-known example of faith and fitness. Samson represents divine presence and human spirit powerfully connected within a remarkable physical body. Faith & Fitness Magazine brings you a unique focus to Samson with insights that help you make connections to your faith and fitness lifestyle.
---
"Throughout his story Samson may have failed many times but to understand him I learnt failure is the foundation of greatness."
When I think of what qualifies as strong, a man who can defeat a thousand warriors with the jaw bone of a donkey,  or rip loose and carry the city gates on his back, are not the first thoughts that spring to mind.
In the Bible,  the young Hebrew Samson ignores his calling from God and the path bestowed upon him. Subsequently, as his life crumbles around him, the young man who was sent to save others,  sets himself on the alternative path, the path to failure.
For me to become Samson on screen, and portray a man whose strength comes from God, I chose to forego physical mass. This choice of physicality was affirmed throughout my preparation, as I was reminded within the story of the constant struggle and starvation of Samson's people.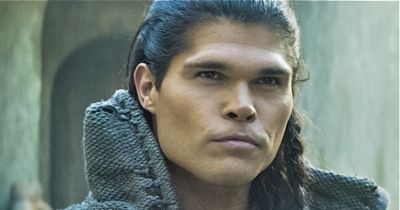 My daily routine mixed strength conditioning with fasting; 18 to 36 hours without calories, and then heavy resistance training prior to breaking my fast. My body responded with muscle preservation to portray Samson's strength and power, whilst burning fat to maintain my energy and lean physique.   I felt that script learning, mental clarity and inner peace, the key components of an actor's mind and soul, also benefited tremendously throughout these periods.
Using fitness as an analogy, the facets of life can be likened to our muscles. We need to have discipline to form habits, routines and structures that ultimately give us the strength to overcome life's challenges. Training our mental and physical muscles leads to virtues such as patience, gratitude and humility.
Samson's story is one of great potential. After failing numerous times throughout his journey, the loss of his sight, his loved ones and his strength, he finds his greatest discovery yet, the love of God.  In this moment of ultimate humility, Samson's reluctance is finally replaced by redemption.
Actor Taylor James plays lead in the new Pure Flix film, "Samson," in theaters ‪February 16, 2018‬. Follow Taylor on social media @tayloractionjames
"Samson" was filmed in S. Africa and also stars Billy Zane (TITANIC), Rutger Hauer (‪BLADE RUNNER‬), Jackson Rathbone (The Last Ship, TWILIGHT), Lindsay Wagner (The Bionic Woman), and Caitlin Leahy (Black-ish).
More on Samson at Samson.Movie