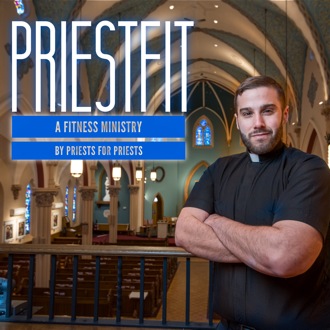 By Father Ryan Rooney and Father Casey Jones, Founders, Priestfit
This 5-page cover feature about Catholic priests is a Fitser Upper story that can inspire all of us to come together to support and love each other. Being connected and having awareness is not enough. God calls every person to reach out and tell those around them – You are not alone. READ ALL 5 PAGES.
Therefore, since we are surrounded by so great a cloud of witnesses, let us also lay aside every weight, and sin, which clings so closely, and let us run with endurance the race that is set before us.
This Bible verse inspires many to lay down their burdens with intentionality and focus as a community of witnesses.
This is the story of two Catholic priests being a witness for Christ by helping priests, and by extension their congregations, to lose some weight, to take up weights at the gym, and to refocus their understanding that God intends their bodies to be vibrant and healthy living temples of the Holy Spirit. This is Priestfit, and it is a ministry of fraternal outreach by priests and for priests challenging each other to eat clean, be fit, and pray well.
THE BIG PICTURE – A GROWING CRISIS
As of 2014, worldwide there are an estimated 414,000 Catholic Priests serving more than 1.277 Billion Catholics and even more in their communities. They run parishes, they say daily Mass, they administer sacraments like Baptism and Holy Communion, and they respond to the emergency needs of parishioners, hearing confessions, anointing the sick and dying, and celebrating many funerals. Many of them are always on call with very few breaks.  They are invited out to many functions where food and drink are in abundance, yet in their rectories many must cook for themselves. The long hours lead to the want for a fast solution.  Eating out often and scarfing down unhealthy food is the quick choice. How many are overweight or clinically obese?
DENIAL IN THE DATA
A national survey of more than 2,500 religious leaders conducted in 2004 by Pulpit and Pew, a research project on pastoral leadership based at Duke Divinity School, found that 76 percent of Christian clergy were either overweight or obese, compared with 61 percent of the general population.
However, a 2009 study of the psychological and spiritual health of priests -- conducted by Msgr. Stephen Rossetti, a clinical associate professor of pastoral studies at The Catholic University of America -- found that a much lower number, 46 percent of the nearly 2,500 priests surveyed identified themselves as overweight. That same study found that 26.3 percent of the priests surveyed listed themselves as obese, and 3.4 percent reported having a body mass index indicating they were morbidly obese.
Click/tap on the numbers below to read all the pages of this story.
NEXT PAGE: A Priest's Dramatic Before And After – Father Ryan's story.
Pages