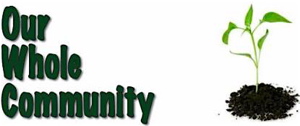 Our Whole Community is a fitness ministry in Winter Park, Florida, consisting of four churches from four different denominations: First United Methodist, Macedonia Missionary Baptist, St. Margaret Mary Catholic and Winter Park Presbyterian. The churches are within a 10-mile radius of each other and serve approximately 17,000 members. Each church has an established health ministry and parish nurse program. They are a working example of how churches can join together to strengthen a community through fitness.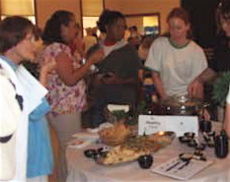 These churches joined forces in November 2007 in an effort to draw from each other's strengths, share resources and reach out to the entire community. Each church continues to offer some of their own internal programs, but they also offer many shared exercise, nutrition and weight-loss programs. They started with a generous grant from the Winter Park Health Foundation. They have used the money to form a successful community garden, create a website, start a healthy meal program for low-income families and offer group health and fitness classes.
Mission: To collaborate on community health initiatives which produce intergenerational wholeness and healthy lifestyle outcomes in the Eatonville, Maitland and Winter Park, Florida communities. Goals: 1. Increase understanding of the concept of whole-person health 2. Change the environment and/or culture in ways that encourage healthy behaviors 3. Serve as a broker of coordinated educational and health initiatives within the faith communities which foster wholeness (spiritual, physical, mental, relational and emotional) 4. Develop increased community awareness through dissemination of information and programs
THE CREATIVE USE OF CHURCH FACILITIES
Each church has its own facilities. Yet the beauty of networking together is that the churches assist each other to manage space issues. An example of this is a Jazzercise class normally held at the First United Methodist Church. Sometimes the space is needed for other church functions. If St. Margaret Mary has room, the entire class simply moves locations for the night. There is a good mixture of people from both congregations attending the class regularly.
Sometimes the same classes are offered at different times or on different days at the four locations. The classes are advertised throughout the congregations and in the community at large. Offering a variety of times and locations gives people options and removes some of the barriers to attendance.

This community church outside of Orlando has a membership of 2,100 and a regular attendance of 470 in traditional worship services on Sunday. Fitness ministries and programs are part of the outreach provided in their Family Life Center.
The church offers a variety of exercise, dancing and activity programs – line dancing, artistic line dancing, gentle yoga, as well as ongoing dancing classes for children and youth like tap, jazz, hip-hop, ballet and point.
A unique program at FUMC is the Brain Fitness Group. Adults with early dementia come for four hours two days per week for a variety of activities designed to sustain their maximum level of functioning. Beyond networking with the other churches there is also collaboration between the different programs at FUMC. For example the Jazzercise program provides scholarship support for students participating in the Upward sports program. Another example is the Brain Fitness program assists with preparation of children's ministry and mission supplies on a regular basis.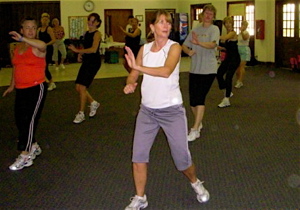 Other programs have included combined education and fitness classes such as the national programs Fitness for Life, First Place Weight Loss, As Families Grow Older, and Forgive to Live. Other series of locally developed classes to support the community have included Aging Successfully and medical topics such as diabetes, hypertension and heart disease, weight loss, diabetes and drug-resistant infections. Grace Based Parenting and classes such as Internet safety for children and sex education are offered for family support. Sit to Be Fit, Faith Driven Fitness and LifeWeigh are wellness programs that have been offered throughout the "Our Whole Community" cluster of congregations.
A part time parish nurse, Betsy McKeeby was added to the staff in November 2003 with one of the goals being to support the wellness of the congregation and community. Full-time staff member, Ben Richards, leads the family life center ministries and Rev. Gary Rideout is minister of congregational care and works to see that all programs are supporting the church mission.









Macedonia Missionary Baptist Church has a membership of approximately 3,500. The facility has a multipurpose center approximately 10,000 sq ft that is used for seminars, classes, and several other educational programs.
The Health Ministry of Macedonia Missionary Baptist Church of Eatonville is comprised of physicians, nurses, health care professionals and members of the congregation who have a passion for God, caring for others, and a concern for health and wholeness. The fitness ministry mission of this church is to provide health-related services, seminars, training and education.
In 2009, Macedonia's Health Ministry was awarded grants and partnered with The March of Dimes, Share the Care, Orange County Health Department, Florida Hospital, Orlando Health and other church denominations. Macedonia has presented seminars and Church Health & Wellness Fairs in Orange County and Seminole County. Several men, women, boys and girls have been trained in CPR (Cardiopulmonary Resuscitation). Many individuals (some not members of the church) have been inspired to join "Team Macedonia" in the nationally known 50-Million Pound Weight Loss Challenge. The Health Ministry has also championed efforts to raise awareness, with an emphasis on prevention, in the areas of cardiovascular disease, hypertension, cancer and diabetes. The ministry has raised thousands of dollars to support research through the American Cancer Society and Diabetes Association with their annual fundraising efforts and participation in Relay for Life, Making Strides against Breast Cancer walk and the Step Out Walk to Fight Diabetes.
The Bible verse they regularly share with people is, "Beloved, I wish above all things that you may prosper and be in health, even as your soul prospers".









The fitness ministry at St. Margaret Mary Catholic Church has the potential to serve approximately 4,000 families or 10,000 members.
Their health ministry is lead by a parish nurse and an advisory group with a broad background and interests in senior issues, communications, wellness programs and nutrition. The goal is to carry on the healing mission of Christ by promoting wholeness in both the congregation and community. The wellness team at St. Margaret Mary has good support from pastor, Father Walsh. Walsh himself is an avid walker, up every morning at 5.
Most of the fitness and wellness programs focus on moving and nutrition based on the results of the parish health assessments. This church addresses the same concerns facing others throughout the rest of the country like being overweight, improper nourishment and under activity. They are always looking for innovative ways to capture people's attention and make it easy for them to make healthy choices.










At this church there is a current membership of about 8oo persons and a weekday preschool of about 200 children.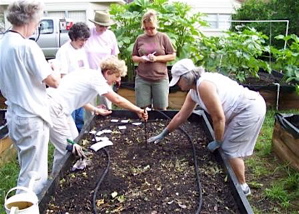 The fenced back yard is the location of a community garden planted and maintained by Our Whole Community. The garden has twenty-four raised boxes, intended to provide vegetables and fruit to be shared with the needy in the community. It is staffed by volunteer gardeners. The building, planting, and maintenance of the garden also provides opportunities for out-door exercise, intergenerational socialization, and environmental education [read the article GARDENS, FAITH AND FITNESS for more on using gardening as a form of fitness ministry]. All ages are welcomed and have participated in the garden since it began in early 2008.
The Health Ministry Team includes persons committed to the importance of whole person health that includes body, mind, and spirit. Dr. Cuthill, the pastor, offers support from the pulpit, participates in planning, and exercises regularly at a fitness center. The church facility (38,195 sq. ft) offers a variety of classroom space that has housed classes on nutrition, fitness, and introduced participants to the value of a variety of exercise options including yoga, aquatic exercise, tai chi, line dancing and other programs offered in the area at facilities like the YMCA.
The cooperative approach of Our Whole Community allows each congregation to offer members and the surrounding communities the opportunity to participate in a variety of programs, which one church alone might not be able to support adequately.
The network approach to fitness ministry of Our Whole Community means all of the churches can offer a very broad selection of programming. The abundant choices and distinct faith-focus enables them to do what no other fitness facility can do in the area.
Brain Fitness Club is a program for persons experiencing early memory loss. It is held on Tuesdays and Fridays with socialization, light physical exercise, mental stimulation and coping strategies all in a relaxed supportive fun environment. Classes held at First United Methodist Church.
Faith Driven Fitness - An experience unlike any before! Connecting physical fitness with spiritual fitness, this all-inclusive exercise management program is fun filled and results-oriented. Mandy Nice, N.S.C.A. Certified, N.P.T.I. Master Personal Trainer and President of The NICE Life, Inc., will share the information YOU need to know to get in shape, then motivate each class through workouts that pair scientifically-proven exercise principles with upbeat worship music to inspire everyone's success. Supplementing the program, each class participant will also be provided with weekly exercise guidelines and home exercise recommendations. Classes held at all four church locations.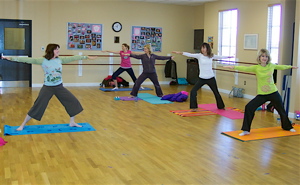 Gentle Yoga is appropriate for all adults. No previous experience is necessary. Gentle Yoga is a series of stretches including yoga poses with some focus on breathing. Classes are taught by Gwen Burnett, certified Yoga teacher in the Integral Hatha Yoga tradition and registered Yoga teacher with Yoga Alliance. Classes held at First United Methodist Church.
Grace Based Parenting is a refreshing new study that shows moms and dads how to love their kids the way God loves His -- with grace! It gives parents a realistic job description for raising spiritually strong children who grow up with a sense of calm and a heart full of purpose and hope. Regardless of the health and dynamics of your family configuration, anyone can benefit from Grace Based Parenting! Classes held at First United Methodist Church.
Hatha Yoga (Level 1 and Level 2)– Beginners learn and improve poses and breathing; experienced students focus on the foundations of their practice. Classes are taught by Karen Cornelius, certified instructor through YogaFit. Classes held at First United Methodist Church.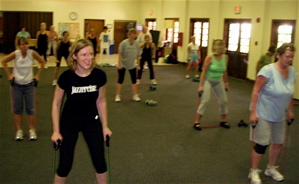 Jazzercise is a 60-minute class incorporating cardio, strength, and stretch moves for a total body workout. All ages, fitness levels, and sizes are welcome. Classes held at First United Methodist Church and are taught by Nancy Lowe, Certified Jazzercise Instructor.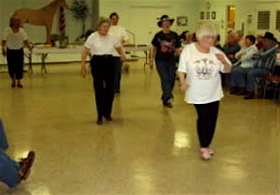 Line Dancing is a relaxing and fun way to promote good health. It helps participants develop flexibility and balance. Classes held at Winter Park Presbyterian Church and First United Methodist Church and are taught by Pauline Dolinky.
Lifeweigh to Healthy Weight - LifeWeigh is the right program for you if you are serious about weight loss coupled with strong Biblical principles and sound nutrition. LifeWeigh is a unique program and works so effectively because the Program is faith based and God centered. If you want to gain control over your weight, increase your faith and live your best life, then LifeWeigh to Healthy Weight is the Program for YOU. Classes held at St. Margaret Mary Church and taught by Life Coach Teona Morris.
Qigong, pronounced chee gong, is a simple practice of slow, meditative exercises, still postures, and coordinated, deep breathing. It is like Tai Chi but simpler. It has been shown to improve inner calmness, balance, strength and flexibility. Classes held at First United Methodist Church.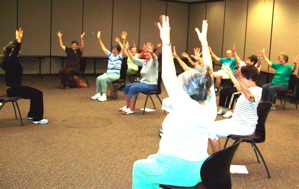 Sit to Be Fit - is a series of chair exercises. By practicing the activities at home between classes, participants will be well on their way to a regular healthy more active lifestyle. Classes held at St. Margaret Mary and Macedonia Missionary churches.
Tai Chi– is a series of slow and gentle exercises. Most participants feel an increase in range of motion, release of stress, and a general sense of well being and a fun and interesting environment. Any age adult in any type of physical health is invited to watch or participate in a class. Classes held at Winter Park Presbyterian Church.
50+ Boost Your Brain Camp– Collaboration of Macedonia Missionary Baptist Church, the Orlando Health Memory Disorder Clinic and the Town of Eatonville. This five-week camp offers classes three days a week with activities proven to enhance brain health. The program encompasses the five pillars of brain health (physical activity, nutrition, mental stimulation, spirituality, and socialization).
The Our Whole Community website is the place to go for more information about this Florida-based fitness ministry.