If we rely on television portrayals (like Trading Spouses) of a "typical Christian mom" we may view her as unhealthy, angry and out of touch with reality. Sadly, the image of a balanced Christian mom who is fit, intelligent and loving is rarely exhibited on reality shows or in movies, yet there are countless role models of delightful, wise and Godly women who carry the title of "Mom." Although we may not find them as we turn on our television sets, it is not difficult to discover balanced and gracious Christian moms all around us.
Amy, Beth, Belinda - 3 Moms Positive Examples
Take Belinda for example. Mother of two pre-schoolers and a newborn, Belinda is a positive Christian mom who seeks God's help day in and day out as she and her husband raise their precious daughters. She maintains her emotional balance through getting together with friends at MOPS (Mothers Of Pre-Schoolers) and Bible study. She stays fit physically through eating right, working out when she can and of course chasing the kids. Belinda loves to read and tries to etch out little bits of time throughout the week to have opportunities to enjoy a good book, even if it is short and sweet. Belinda is also a fun mom. She plays with her kids, takes them to the zoo, prepares picnics in the park for them and builds happy memories in the process. Not quite the typical media image, wouldn't you say?
Another positive example is my friend Beth, mother of four. One of her children was born with numerous medical challenges, which required over 18 surgeries. Through it all she maintained her sense of balance, because she is anchored in God. She finds strength through God's word, prayer and loving friends. Although she has faced many challenges, her outlook is bright and she is an encouragement to each of her children. Beth especially enjoys long walks as it gives her the opportunity to exercise, reflect and enjoy God's great creation while spending time in prayer. Beth says that her walks and prayer time have given her a way to reduce the stress, which she faces as a busy mom.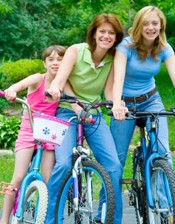 Amy also gives us a fresh picture of the Christian mom image. She is a beautiful, vibrant mother of three, but her life is far from easy. Amy suffers from vertigo, which can hit her quite unexpectedly and often requires bed rest. Instead of letting the vertigo get her down, Amy has chosen to keep her eyes on Christ. She asks her friends to pray for her when she suffers a bout of this unfriendly illness. Amy also has sought out nutritional solutions and has followed a strict diet plan to not only maintain a healthier lifestyle, but also to reduce the occurrence of the vertigo. Although her life can be unpredictable at times, Amy maintains a joy-filled attitude and wholesome schedule as she works part time and enjoys fellowship with friends and family.
Amy, Beth and Belinda are just three examples of the myriads of moms who live the life of faith. They are reflections of God's love and grace. They would be the first to admit they aren't perfect, but where they are weak, God is strong. And that's the key. Most Christian moms aren't Polly Perfect, but they aren't raving lunatics either. The truer image of a Christian mom ought to be a woman who recognizes her challenges and limitations and seeks God daily for strength. As moms, may each of us reflect the beauty of His love and care in our homes and among those with whom we exercise as we look to Him to give discernment, balance and love.
Five Steps to Building Balance as a "Christian Mom"
Take the Picture of Perfection off the wall. Recognize that no one is perfect. God can use both your strengths and your weaknesses in your home.
Seek to grow mentally, physically, spiritually and emotionally. Set goals in each area and have a friend hold you accountable.
Don't compare with other moms. Don't try to be Super Mom. Instead, be the person God has created you to be, using the gifts and talents He has given you.
Draw close to God. Pray continually throughout your day, seeking God's wisdom and patience. Read the Bible, even if it is just a little snippet each day.
Maintain a regular exercise routine in order to reduce stress and give you more energy. Fuel your body with healthy foods to give you stamina.
A Mothers Prayer
Here is the deal… prayer should be nothing more fancy than you having a heart-to-heart conversation with God. No show or pretense – just honest talk with a sincere effort to listen and hear from God. With that being said, here is a sample prayer you can use as a starting point for your prayers.
Wonderful Heavenly Father, I praise you for your faithful love and abundant mercy. Thank you for your son Jesus who gave his life for us. Thank you for the example He set of growing in wisdom and stature and in favor with God and men. May I seek to do the same in my home. Help me to maintain a healthy lifestyle. Give me wisdom in raising and disciplining my kids. Keep my eyes focused on You and not on my weaknesses. Give me strength for each day. I love you Lord. Thank you for loving and caring for me. In Jesus Name, Amen.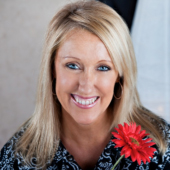 Karol Ladd
is the best-selling author of over 20 books including The Power of a Positive Mom. Karol maintains an active schedule of speaking and writing, and loves to spend time with family and friends. She stays fit through her regular workout routine of walking and weight training. She has two daughters and lives with her husband in Dallas, TX. Visit her
website
for more informaiton.