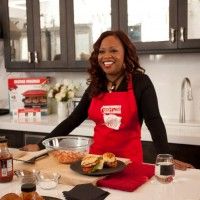 I am an enormous fan of just about all of the shows on the Food Network but 'Down Home with the Neely's' has to be one of my favs. Its an awesome example of two married people, enjoying marriage and enjoying working together. What we all tune in for is the recipes. The food that Pat and Gina prepare is bound to make any mouth water but the food hasn't always been figure friendly.
Gina Neely recently lost weight while participating in the George Foreman Grills Weight Loss Challenge. She is looking amazing and shares her journey with us.
---
Arian T. Moore: While you weren't necessarily overweight, what motivated you to lose weight?
Gina Neely: First off "thank you" for the compliment. My motivation to lose weight was due to my annual [doctor's] visit and my cholesterol was a little high and I wanted to make some changes to fix it. How ironic that the George Foreman opportunity came alone? So it was just more of a validation for me to move in a healthier direction.
Arian: Do you feel that you've struggled with weight throughout life and if so what do you contribute it to?
Gina: I wouldn't say "struggled," but you know, as a woman, we are always being judged or judging ourselves. Sometimes it can be emotional eating from stress, what society says is acceptable or just life in general. That's why it's so important to create a healthy lifestyle for yourself.
Arian: What were the initial steps you took to get healthier?
Gina: The first step you have to take is to get your mind in sync with the idea of change.  Then you clean the refrigerator out, create meals plans and make exercising an appointment. Try to stay consistent and keep with the plan.  Remember that you are human, so it's OK to give yourself a break every now and then.
Arian: Being an obvious foodie, have you had to change your recipes?
Gina: Absolutely.  I grill as opposed to frying.  I experiment more with different seasonings (which I have always loved to do) and I try preparations of vegetables differently.   Take kale for instance — it can be sautéed or baked by adding a little brown sugar to cut the tartiness of it.
Arian:  Has your husband jumped on the fitness train too? If so, how did you motivate him?
Gina: He saw the change in me and wanted to get on board. I think when one partner makes a positive change and you see the actual results, it's always motivating and encouraging. My weight loss has even affected my girlfriends.   Our "Girls Night Outs" aren't the same. They tease me and say they want to eat what I eat. I can't be the only "hot" girl in the group. As far as my daughters, they have always been athletic so weight isn't an issue for them (right now), but I'm glad they can see what I'm doing.  As a mother, it's always good to set a positive example.
Arian: What has been the hardest obstacle in developing a healthier lifestyle?
Gina: Keeping consistency with my busy schedule. Now I try to travel with my [resistance] bands or check and see if a hotel has a workout facility.  If I can't make it to a gym, I will do things around the house or just take a beautiful walk…..It's great for the mind and the body.
Arian: Many people believe that healthy food is bland and boring. What do you say to that?
Gina: I say, "Honey, spice up your life!" There are so many seasonings to try to dial it up.
Arian: What are some exercises and activities you love to do? And how often do you exercise?
Gina: Surprisingly, I love to run.   It gives me a feeling of freeness and the ability to feel that I can handle anything.  I'm even considering a marathon, but I'll probably start with something shorter and ease into it. I exercise whenever I can, especially when I've had a long day. It's a great stress booster and mood lifter. I'm all for anything that makes me smile.
Arian: What would you say to someone wanting to lose weight but they struggle with a genuine love and/or connection to food?
Gina: Love the food, but find your balance.  Eat the right way and put the work in to keep healthy.  You can enjoy eating and still be fit if you do it right – I'm proof of that!
Use the tools below to print this article and email it to your contacts so that you and a friend can enjoy two of Gina's favorite healthy recipes.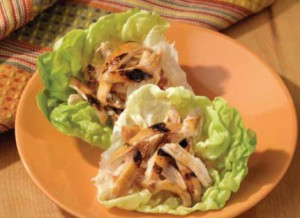 Gina Neely's Mango-Peach Lettuce Wraps Recipe  
[lettuce-wraps]
Ingredients:
2 (6-ounce) boneless skinless chicken breasts
Kosher salt and freshly ground black pepper
3 Tablespoons mango-peach jam
1 Tablespoon reduced sodium soy sauce
12-ounces Boston or Bibb lettuce, leaves separated
Directions:
Preheat your George Foreman® grill to medium-high heat.
Season the chicken on both sides with salt and pepper and grill for 11-13 minutes, or until cooked through.
While the chicken is cooking, add the jam and soy sauce into a small sauté pan.
Bring to a simmer for 1 minute and then remove from heat.
Brush the glaze on the chicken breasts during their last minute of cooking.
When done cooking, move the chicken from the grill to a cutting board and chop or shred into bite-sized pieces.
Place the chicken in the lettuce cups and eat immediately.
Serves 2
Per serving: calories 327, protein 45g, carb 22g, fiber 2g, total fat 5g, sat fat 1g, cholesterol 120mg
Gina Neely's Knock Out Grilled Caesar Salad 
Ingredients:
3/4 cup reduced fat Greek yogurt
2 tablespoons lemon juice
1 tablespoon Dijon mustard
2 tablespoons olive oil, divided
1 clove garlic, smashed and peeled
4 hearts of romaine, sliced lengthwise in ½
4-4 ounce salmon fillet
Salt and freshly ground black pepper
½ cup Shaved Parmesan, divided
Directions:
Heat the George Foreman® grill to medium high heat.
In a blender or food processor, add the yogurt, lemon juice, mustard, 1 tablespoon olive oil, garlic, salt, and pepper and blend until smooth.
Drizzle the hearts of romaine with the remaining tablespoon of olive oil and season with salt and pepper.
Grill five to six minutes or until grill marks appear and the romaine becomes wilted.
Remove lettuce and place salmon fillet on grill for five to seven minutes.
While salmon grills, place lettuce on a cutting board and cut into 2-inch wide strips.
Place in a bowl and drizzle lightly with the dressing.
Toss to coat and divide into 2 cup portions garnished with 2 Tbsp shaved parmesan.
Serve lettuce warm alongside grilled salmon.
Serves 4
Per Serving: 339 calories, 35g protein, 7g carb, 3g fiber, 19g fat, 5g sat fat, 31mg cholesterol
For more information on Gina visit http://ginaandpat.com/.